Editor's note: Occasionally we cross-post content from our sister publication Cheers, as what in style on-premise so often informs the next trends for off-premise.
"Vodka is still a huge driver for us," says Brandon Wise, beverage director for the Sage Restaurant Group, a Denver-based multi-concept operator with 13 units. "The attitude towards vodka has shifted a couple of times—in the early 2000s away from vodka, and now the pendulum has swung back to where vodka is being embraced at craft cocktail programs."
Indeed, the great white spirit is reclaiming its place on the cocktail list after being dissed by mixologists. Working bartenders are ready to offer a case for vodka's place on every backbar.
Money Talks
"Whiskey may be in the spotlight, but the number-one selling spirit in the U.S., ounce for ounce, is still vodka," says Dustin Parres, corporate bar manager for St. Louis, MO-based Gamlin Restaurant Group. The company operates Sub Zero Vodka Bar, Gamlin Whiskey House and the newly opened 1764 Public House, as well as an event and catering business.
"The cocktail renaissance gave whiskey its spot in the sun, but now I honestly think that people are coming back to vodka," Parres notes. Even Gamlin Whiskey House, with a list of 400 whiskeys, goes through two cases of vodka every week, he adds.
Vodka cocktails at No. 3 Social in Miami include The Beauty Secret, with organic vodka, collagen, lemon, egg white and blueberry, and Cloud 9, with vodka, egg white, yerba mate syrup, aromatic bitters and honey.
The spirit's versatility is a strong point. "It's a perfect canvas for infusions and creative cocktail building," Benson says.
"When my brother Derek and I opened SubZero 14 years, vodka was the hottest spirit on the market," recalls co-owner Lucas Gamlin. Times have changed, but vodka still remains strong in all of his operations.
The vodka category grew 2.1% to reach 74.3 million nine-liter cases in 2016, according to the Beverage Information Group's 2017 Liquor Handbook. Though its growth has slowed, the spirit has shown 19 consecutive years of volume increases.
"Vodka is our top seller," says Benny Benson, bar manager at Hell's Kitchen, a casual American restaurant in Minneapolis. "We have had much success with our vodka program: We use fresh ingredients, and we listen to what our customers want."
"While other spirits are certainly finding their place in the cocktail scene; for us, vodka continues to be a bestseller," says Bear Caffery, co-owner of Lula Restaurant-Distillery in New Orleans. "There is a level of familiarity with vodka, making our guests comfortable with the well-executed classics, and, at the same time, encouraging them to branch out and try some modern options such as Vodka Basil Smashes and Cucumber Vodka Collins."
Premium expressions have helped the category.
"I think brands such as Grey Goose have really put effort and time into showing the cocktail industry that vodka can be made with integrity," says beverage director Christina Cabrera, who created the drinks menu for Gertie's Bar downstairs at The 404 Kitchen in Nashville. "It can be used to create cocktails and hold up against other ingredients with adding something of its own in the process."
Consumer tastes in Nashville lean toward bourbon, rye and tequila, Cabrera notes, but vodka is still popular. Gertie's, which opened late last year, now stocks Ketel One and Grey Goose.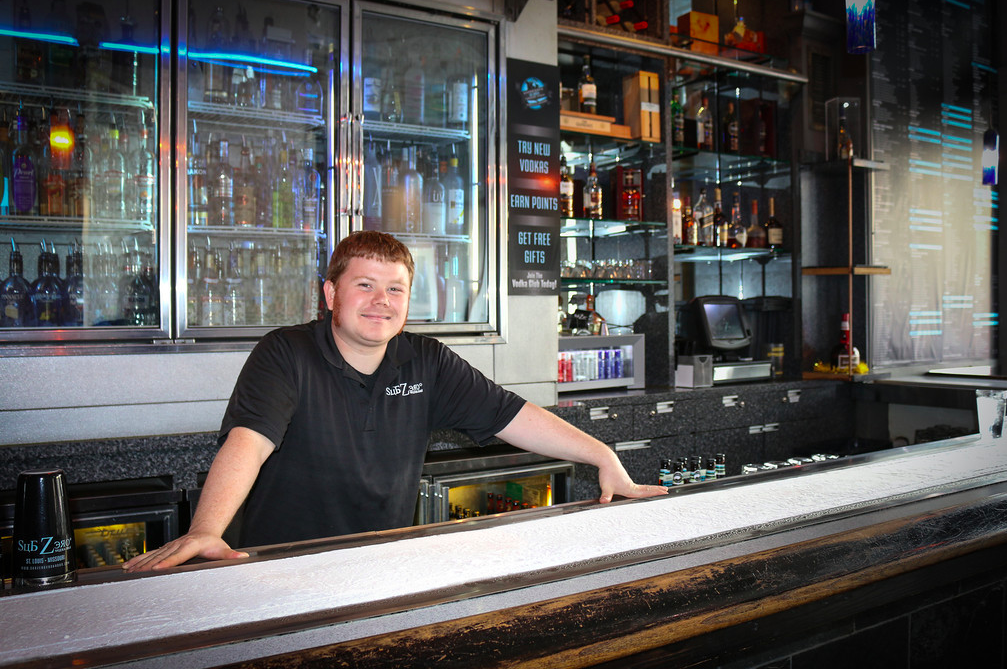 "We're definitely doing our part to break down the stigma that vodka isn't 'cool' or doesn't have a place in a craft cocktail bar," says Wise. The number of vodkas and brands offered varies by concept at Sage Restaurant Group, but there are around a dozen incorporated in its corporate beverage program. "Our restaurants are very focused on partnering with local craft distillers, so you'll find some interesting options from the community behind all of our bars," he adds.
Cool Stuff
Vodka is theater at Lula Restaurant Distillery, where guests can watch its small-batch vodka being handcrafted onsite from Louisiana sugarcane and then order a vodka cocktail. The operation also distills rum and gin, but vodka is the mainstay of its bar program. Lula stocks most of the traditional vodka brands as well as a few craft versions, but its house vodka is the best seller both on- and off-premise.
"One of our largest and most successful promotions is Lula's all-you-can-drink vodka bar," says Caffery. Available during weekend brunch, guests pay $20 to serve themselves unlimited vodka with a variety of mixers, including house-made Bloody Mary mix and fresh juices like satsuma citrus and watermelon.
True to its name, SubZero Vodka Bar boasts a selection of nearly 600 different vodkas that are displayed in an enormous, glass-fronted freezer set at zero degrees. Shots, 1 1⁄2 oz., are priced from $7 up to $500 for rare expressions. To keep those shots chilled, the unique bar top is coated with a layer of ice. And vodka flights are presented in an ice bath.
SubZero's vodka selection runs the gamut. "There are so many crazy flavors," says Parres, citing a list that includes Alaska Distillery Smoked Salmon, Bakon bacon-flavored vodka and 306 Vodka's Glazed Donut.
On the rare and exclusive side is HDW Clix, distilled 159 (the Roman numeral CLIX) times, and the luxe Ciroc Ten. The crown jewels of the collection are two different versions of Stoli Elit 2.0—just 250 bottles were produced of each. "Both editions come in fancy packages and sit on the top shelf," Parres says.
"One of the fun things we've done is to team up with St. Louis Distillery to produce a single-barrel Cardinal Sin vodka for our newest place, 1764 Public House," says Gamlin. "It's an interesting barrel-aged vodka that customers can only experience at our restaurants."
Hell's Kitchen has developed a reputation for its Jacked Up Bloody Mary Bar. For $14.95, guests can custom-design their drinks from a 35-ft. buffet featuring 247 hot sauces, gourmet rim salts, specialty olives, cheeses, bacon, peppers and dozens of other garnishes.
Hell's Jacked Up Champagne Mimosa Bar offers five different juice options, fresh fruit, dried fruit, colorful candies and more than a dozen house-made flavored syrups. "People have a blast with them," says Benson.
Classic and Craft Cocktails
High-end expressions demand sipping from a snifter, and younger drinkers enjoy shots of flavored vodkas. But most vodka is consumed in mixed drinks, which is where the creative action is on-premise.
Vodka cocktails are popular at chef Norman Van Aken and Southbound Hospitality's new restaurant Three Wynwood on the ground floor of Miami's Wynwood Arcade, and at No. 3 Social, the rooftop lounge and bar.
"Vodka is very popular on the cocktail menu, and The Late Bloomer is one of our best-sellers," says head bartender Tony Fuentes. The drink mixes bison grass vodka with St. Germain elderflower liqueur, lemon juice, muddled green apple and basil, garnished with a purple pansy.
Another popular call is the Matter of Habit, with Ketel One vodka, raspberry puree, lime juice and a float of coconut milk, garnished with a mint-orchid bouquet and an atomizer spray of rhubarb bitters. Cocktails are priced $15 to $18.
Fuentes stocks five straight and three flavored vodkas. Chopin is the most popular because it can be sipped or enjoyed mixed. The call vodka is Tito's: "It's well balanced and the name rolls easily off the consumer's tongue," notes Fuentes.
At Lula's, the Cucumber Vodka Collins is so popular it is batched, force-carbonated and served on tap. Cocktails are priced at $9 to $5 during Happy Hour.
Beyond its specialty drink bars, Hell's Kitchen offers a Classic Bloody or Mimosa ($9.95 each). One of the top sellers on the cocktail list is the Foxy Devil, made with house-infused ginger vodka and house-made basil lemonade. "Simple but perfect," says Benson.
For Sage Restaurant Group's newest project, Emporium Kitchen and Wine Market in Fort Collins, CO, Wise's beverage team created the Firehouse Mule, a variation on the classic served in a copper mug that has proved popular. Starting with Tito's vodka, Fernet Branca and its exclusive Flora vermouth married with Liber & Co. spicy ginger syrup and lime, the drink is finished with Fever Tree ginger beer. "It packs a spicy punch and for $9, it's a solid value," says Wise.
Since Gamlin opened SubZero Vodka Bar, it has been offering classic Champagne Cocktails. The menu features nine variations with different vodka bases. "People are coming back to them—they are fun and trendy again now," notes Parres.
Cocktail prices run $10 to $12. Hugely popular are the SubZero Goblets, large-format cocktails made with vodka and fresh fruit; dry ice adds theatrical flair. "The Goblets are aesthetically pleasing and fun to set down in front a group of guests," adds Parres.
Flavors and Infusions
Much of the interest in vodka and category growth just a few years ago, was driven by a proliferation of far-out flavors—from Bubble Gum and Fruit Loops to Chocolate Whipped Cream. Since then, producers have dialed back on the wilder ones, while citrus, fruit and pepper vodkas remain on shelves and backbars.
"We tend to focus more on the core marques than flavors, and typically only offer no more than four flavors at any of our concepts," says Wise.
SubZero's selection is split 50/50 between straight and flavored vodkas. An older clientele enjoys sipping vodka neat, while a younger clientele is doing shots of flavored vodkas or in Martini-type drinks, Parres says.
Many of the flavors are house infusions. "We take vodka's blank canvas to create the flavors we want for our guests, products that are unique to SubZero," he notes.
When the operation opened a gourmet burger kitchen a few years ago, Parres created a dill pickle vodka infusion. "Our cheeseburger with a glass of pickle vodka—that's one of our most popular orders."
When it comes to infusing vodka, Caffrey at Lula's has a trick. For the Vodka Collins, the spirit is infused with cucumber under high pressure with nitrogen. "This allows us to speed up the infusion process from days or even weeks to just about five minutes," says Caffrey.
The most popular flavor at Hell's Kitchen is the house-infused chipotle-orange vodka, which is used in the Bloody Mary. "It is a perfect combination of sweet and spicy and has been a Hell's Kitchen staple," says Benson.
House-made raspberry, pomegranate, ginger and strawberry flavors also do well at the bar. Finlandia vodka is used as the base for infusions; Hell's Kitchen also stocks four commercial flavors.
At Gamlin, Parres is busy promoting further interest in vodka with ticketed educational events. The team is also working to revamp its Elite Club, which rewards customers who try more than 300 different vodkas.
Another promo is the long-running Birthday Club, which treats customers to free vodka on their special day. "And I am always searching out new vodkas to build SubZero's collection," he adds.
"Whenever I create a cocktail program, I always include at least one vodka cocktail," says Cabrera at Gertie's. "The cocktail scene is always evolving, and vodka now has a seat at the table."
Thomas Henry Strenk is a Brooklyn-based writer specializing in all things drinkable.